The Green Council's strength is in our partnerships, lending support to existing organizations and fostering a collective voice to escalate the importance of environmental matters in the 47th Ward and citywide. Some of the work we've done is featured here.
47th Ward Eco Fest
In 2022, the Green Council worked closely with Alderman Martin's office, the Chicago Park District, and the Welles Park Advisory Council to host the inaugural 47th Ward Eco Fest at Welles Park.
We're excited that Eco Fest is back for a second year, on August 19, 2023! You can RSVP to get reminders at bit.ly/ecofestsignup.
This festival brought together environmental advocacy groups, community organizations, and sustainable businesses to share resources and ways to get involved. The event featured a Reduce Waste Chicago reuse and recycling pop-up collection, on-site composting by WasteNot Compost, native plant giveaways, a children's bike obstacle course and lots more fun for all ages!
Education
We organize educational community meetings, bringing in guest speakers from environmental organizations in Chicago to discuss some of the most pressing environmental issues facing our city, and partner with the 47th Ward office on environmental town hall events.
Past topics have included community choice energy aggregation, city recycling challenges, native plants, our urban tree canopy, the city's Climate Action Plan, active transportation, single-use plastics, and more.
Policy Advising/Advocacy
Our planning committee tracks environmental legislation, primarily at the city level, and meets regularly with Alderman Martin to share input and ask questions. With guidance and collaboration from Extinction Rebellion, we were instrumental in getting City Council to declare a climate emergency in 2020.
We share action alerts among our partner organizations and have organized public comments at City Council, as well as feedback to the city on its 2021 Waste Strategy Report, 2022 Climate Action Plan, and the Building Decarbonization Working Group. We also work closely with organizations such as the Illinois Environmental Council and Sierra Club Illinois to stay on top of state and federal environmental policy.
Native Plants
The 47th Ward is home to many public and private native gardens that are vital homes for pollinators and help with stormwater retention.
The Green Council has worked to educate the public about native plants' benefits through events including a native plant sale in partnership with Rinda West Designs, a milkweed monitoring workshop with the Field Museum, and native planting days at Sulzer Library. We are also exploring a parkways for pollinators program to expand the work being done by neighborhood associations in the ward.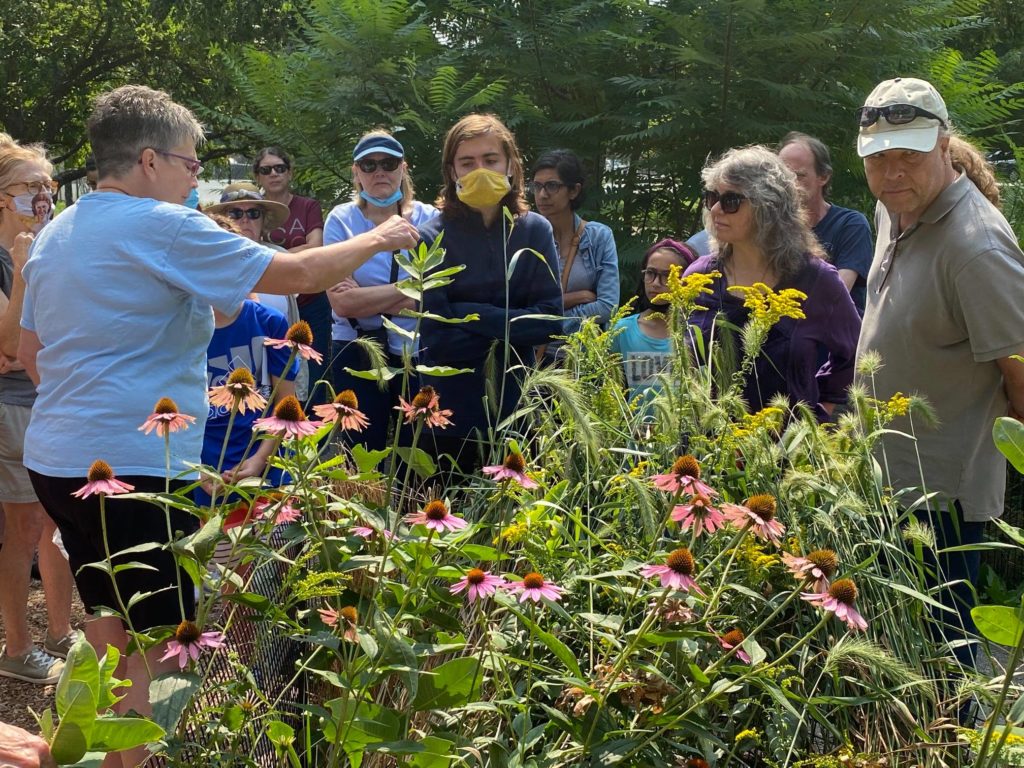 47th Ward TreeKeepers
TreeKeepers is a program run by Openlands that trains residents on basic tree maintenance, including tree planting and pruning. The Green Council worked with Openlands to develop a 47th Ward TreeKeepers chapter, the first of its kind in the city.
The chapter hosts regular volunteer work days in local parks and parkways, and we've helped residents apply for Openlands tree planting grants in Ravenswood and Lincoln Square. This group has also worked with the 47th Ward office to conduct surveys of the health of recently planted trees.
Waste Diversion/Compost
The Green Council supports several local organizations that help divert waste from landfills, and we work to educate residents about the waste they create and find more sustainable ways to handle it.
This work includes sponsoring events such as Recycle-palooza and the Pumpkin Smash composting event, as well as partnering with the 47th Ward and Reduce Waste Chicago on various collection drives. We also partnered with Friends of the Chicago River to host a Litter-Free Supply Station at the 47th Ward office, helping residents organize neighborhood cleanups.